GOLD: Christmas with the King's Singers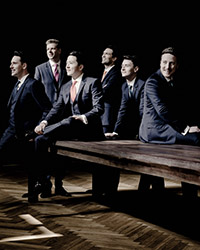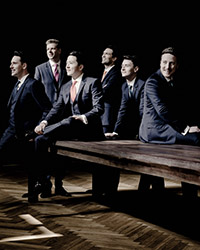 You've selected

Select another date for this event (if available)
Venue
Washington National Cathedral
3101 Wisconsin Avenue NW
Washington DC 20016

Directions & Parking
Performance Notes
GOLD: Christmas with the King's Singers
Saturday, December 22, 2018 | 7:30pm



Help celebrate The King's Singers' 50th birthday! This world-famous ensemble pays tribute to the music that has defined its first 50 years, inspired by the unique maverick spirit that guided the original six King's Singers to keep every performance as fresh and varied as possible. Upholding its mission that the future of music deserves to shine as brightly as it can this remarkable group of singers provides us with the perfect preparation for the holiday season.

Program
WHAT CHEER
Born on a new day, John David, arr. Peter Knight (adapted Philip Lawson)

ANCIENT ORIGINS
Veni, veni Emmanuel, Trad.arr. Philip Lawson
Gaudete, Trad.arr. Brian Kay

A CHRISTMAS MIRACLE
Ave virgo sponsa Dei -Inviolata est, Adrian Willaert

CAROLS FROM KING'S
The Shepherd's Carol, Bob Chilcott
Carol of the bells, Mykola Leontovycharr. arr. Keith Roberts

A STAR IS BORN
* Master of Music, Toby Hession
CHRISTMAS FOR A CENTURY

Bogoróditse Djévo, Arvo Pärt
Bethlehem Down, Peter Warlock
There is a flower, John Rutter

JOY TO THE WHOLE WORLD
* We are, Bob Chilcott

*This is a new anniversary commission

Intermission

THE CHRISTMAS STOCKING
A celebration of ancient and modern Christmas music from across The King's Singers' repertoire, to include selections from Christmas, The Christmas Songbook, and their 50th anniversary album Gold.

Personnel
Patrick Dunachie, countertenor
Timothy Wayne-Wright, countertenor
Julian Gregory, tenor
Christopher Bruerton, baritone
Christopher Gabbitas, baritone
Jonathan Howard, bass

Ticket Prices
Premium Nave $95
Front Nave $79
Mid Nave $60
Rear Nave $40
North/South Balcony: $60
West Balcony: $45
N/S Transept West Side $60
N/S Transept East Side (partial view): $25

Tickets purchased now will be held under your name at will call, and may be picked up beginning at 6:30 pm on December 22.