The National Acolyte Festival 2019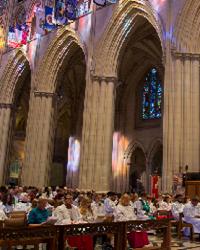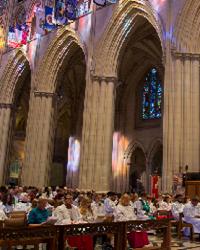 You've selected

Select another date for this event (if available)
Venue
Washington National Cathedral
3101 Wisconsin Avenue NW
Washington DC 20016

Directions & Parking
Performance Notes
The 2019 National Acolyte Festival
Come one, come all! Join acolytes from across the United States for a festival Holy Eucharist with re-dedication of service. Bring your processional crosses, banners, torches, thuribles, flags, and streamers for a festive procession of acolytes, clergy, and vergers.
• Begin the day with a service of Holy Eucharist (10 am)
• Stay for a festive afternoon at the Cathedral, including workshops, outdoor activities, vendors, food and games!
Registration Cost
$10 per acolyte
The required registration fee applies only to acolytes. Clergy, vergers, friends and family are welcome to attend at no charge and the service is open to the public.
Schedule
9 am: Check-in opens
10 am: The Grandest of Processions
Acolytes, servers, clergy, and vergers from across the country join in a colorful procession from the Great West Doors and down the center aisle of the sixth-largest Cathedral in the world.
Holy Eucharist
11:30 am: Lunch
Enjoy a picnic lunch on the Cathedral grounds: pack your own, or purchase from the food trucks or Cathedral Cafe.
11:30 am-5:00 pm: A Festive Afternoon
Join us for a fun afternoon of workshops, tours, vendors, demonstrations, games, and music.
Fall Festival
After the service, explore the Cathedral's Fall Festival. The West Lawn host to a number of vendors and exhibitors. Vendors include sellers of jewelry, church goods and vestments, and more!
Workshops
Learn and grow in your service through a variety workshops on the history of the vergers, the work of the thurifer, liturgical streamers and kites, and vestments.
Tours
Discover the story and beauty of the Cathedral, its sculpture, woodwork, and stained glass through offerings by the Cathedral docents.
Organ Demonstration
Join the Cathedral organists as they offer a short talk about the 10,650-pipe Great Organ followed by a mini-recital.
Acolyte Olympics
Acolytes, vergers, and servers are all invited to compete for medals in the Acolyte Olympics — a series of competitions including the festival favorite, the Thuri-ball Races!
To register by phone, please call (202) 537-2228.
To download a printable registration form,
CLICK HERE
.