Bach St. Matthew Passion Sunday April 5 2020 at 4:00 PM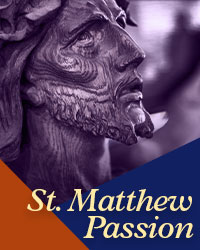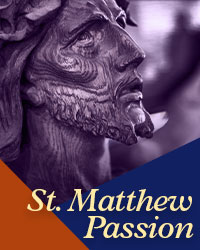 You've selected
Sunday April 5 2020 at 4:00 PM
Select another date for this event (if available)
Venue
Washington National Cathedral
3101 Wisconsin Avenue NW
Washington DC 20016

Directions & Parking


Performance Notes
St. Matthew's Passion - J.S. Bach
Sunday, April 5, 2020 | 4:00 pm

Regarded as one of Bach's masterpieces, the St. Matthew Passion tells the story of the trial and crucifixion of Jesus. Performed on Palm Sunday, a day where the Christian faith marks the entry of Jesus into Jerusalem and his journey to the cross. With acclaimed tenor Rufus Muller in the role of the Evangelist alongside the Cathedral Choir and Baroque orchestra, we invite you into the sacred space of the Cathedral for a musical and spiritual experience unlike any other.

Personnel
Rufus Muller – Evangelist
Michael Sumuel – Christus
Laura Choi Stuart – Soprano
Amy Broadbent – Soprano
Kristen Dubenion Smith – Alto
Roger Isaacs – Countertenor
Mathew Loyal Smith – Tenor
Matthew Hills – Tenor
Jason Widney – Bass/Baritone
Steven Combs – Bass/Baritone

Ticket Prices
Premium Nave $95
Mid Nave $60
Rear Nave $40
North/South Balcony: $60
West Balcony: $45
N/S Transept West Side $60
N/S Transept East Side (partial view) $25

$15 student tickets available in all sections except the Premium Nave; select the student option in the drop-down

Tickets purchased now will be mailed to you.