Haydn Festival: The String Quartet Tuesday May 19 2020 at 7:30 PM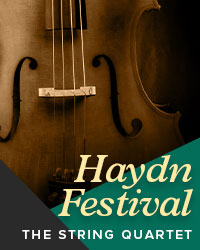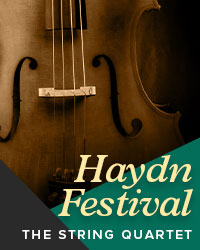 You've selected
Tuesday May 19 2020 at 7:30 PM
Select another date for this event (if available)
Venue
Washington National Cathedral
3101 Wisconsin Avenue NW
Washington DC 20016

Directions & Parking
Haydn Festival: The String Quartet
Tuesday, May 19, 2020 | 7:30 pm

The Cathedral's Haydn Festival begins with an appropriate bow to Franz Joseph Haydn as the king of the string quartet. Haydn's more than 60 quartets are extraordinary and unique in creativity and texture. Featuring the Diderot String Quartet, the Cathedral's Quartet-in-Residence, tonight's program presents Haydn's String Quartet in C Major, Op 33 known as 'The Bird', paired with the final work written by Felix Mendelssohn, his quartet in f minor, Op. 80.

Program
Haydn: String Quartet in C major, Op. 33/No. 3, 'The Bird'
Mendelssohn: String Quartet in f minor, Op. 80

Diderot String Quartet
Paul Dwyer, cello
Kyle Miller, viola
Johanna Novom, violin
Adriane Post, violin

Ticket Prices
Front Choir $40
Back Choir $20
Students (with valid ID) - Front Choir $15
Students (with valid ID) - Back Choir $10

Tickets purchased now will be mailed to you.