Angels and Monsters Tower Climb Friday March 6 2020 at 2:00 PM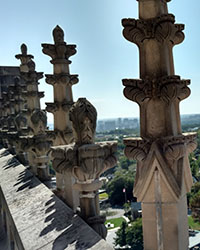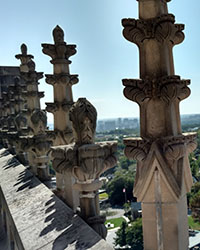 You've selected
Friday March 6 2020 at 2:00 PM
Select another date for this event (if available)
Venue
Washington National Cathedral
3101 Wisconsin Avenue NW
Washington DC 20016

Directions & Parking
Performance Notes
Climb to the dizzying heights of Washington National Cathedral with various tower climb options!
This climb focuses on the Cathedral's two western towers and includes a close-up look at many gargoyles and grotesques while visiting the open-air walkway wrapping around these two towers (about 125 feet above the ground). The climb ends on the very top of the northwest tower, which provides the best views of the Cathedral itself, and 360-degree views of the surrounding area (over 200 feet above the ground).
The Gargoyle Tower Climb lasts 75-90 minutes and costs $50 per person. Please review the following information before purchasing tickets:
Prepare for rigorous activity.
Those with a fear of heights or enclosed spaces should not participate; stairs include both enclosed stone staircases and also open metal, spiral stairs.
Minimum height requirement: 48 inches (4 feet)
Not appropriate for young children; Infants cannot be carried on the tour.
Dress appropriately for the weather, as the weather conditions are more extreme than at ground level.
Tickets are non-transferable; ID may be checked to verify ticket ownership. Please contact the box office at (202) 537-2228 or tickets@cathedral.org if you have any questions or would like to make a change to your ticket order.
If you're interested in arranging a private tower climb for a small group (minimum: 5 people; maximum: 10 people), please submit an online request by clicking
here
.