Cathedral Spotlights: Explore Space … in Stained Glass Tuesday November 24 2020 at 4:00 PM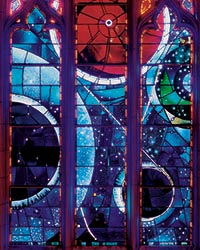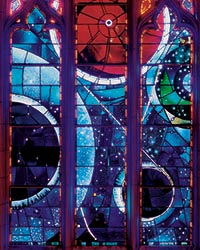 Tuesday November 24 2020 at 4:00 PM

Cathedral Spotlights: Explore Space … in Stained Glass
Tuesday, November 24 | 4 pm EST

Registrants will be sent information with a Zoom login. Registration is free for this ONLINE event. Donations gratefully accepted. If you wish to contribute, select the option in the drop-down.

Explore one of the most iconic stained-glass windows at Washington National Cathedral with an in-depth virtual tour of "The Scientists and Technicians Window", also known as the Space Window. Learn how artist Rodney Winfield of St. Louis created the design to symbolize the macrocosm and microcosm of space and incorporates a 25 oz. basalt lunar rock. Join Cathedral Docent Camille Hersh as she explores gratitude through art while learning how the window demonstrates gratitude to the Apollo 11 astronauts, gratitude to the nation for supporting the mission with the gift of the moon rock, and gratitude to God for the beauty of the universe.