Bell Tower Climb Friday August 26 2022 at 10:30 AM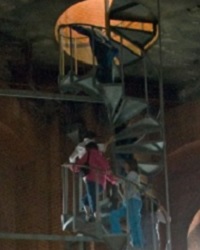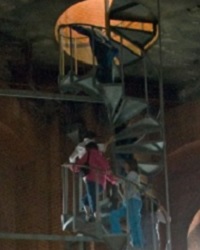 Friday August 26 2022 at 10:30 AM

Climb to the dizzying heights of Washington National Cathedral with various tower climb options!

The ultimate destination of this climb is the ringing chamber, 333 steps high in the Cathedral's central tower. From here, visitors will find the best possible view of Washington, DC. The climb includes multiple views inside the Cathedral itself, up-close views of stained glass, and access to some of the Cathedral's oldest stairs.

The Classic Tower Climb lasts 75-90 minutes and costs $50 per person. Please review the following information before purchasing tickets:

Prepare for rigorous activity.
Those with a fear of heights or enclosed spaces should not participate; stairs include both enclosed stone staircases and also open metal, spiral stairs.
Minimum height requirement: 48 inches (4 feet)
Not appropriate for young children; Infants cannot be carried on the tour.
Dress appropriately for the weather, as the weather conditions are more extreme than at ground level.
Tickets are non-transferable; ID may be checked to verify ticket ownership. Please contact the box office at (202) 537-2228 or tickets@cathedral.org if you have any questions or would like to make a change to your ticket order.