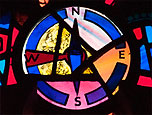 Spiritual Reflections Tour
Location

Washington National Cathedral
3101 Wisconsin Avenue NW
Washington DC 20016
Directions & Parking
×
Spiritual Reflections Tour: Encountering the Holy
Explore up close the inspiring stories of faithful action and devotion highlighted in glass and stone in the Cathedral, and be nourished on your own spiritual journey. No matter your religious tradition or background, enjoy this unique one-hour meditative tour that offers story, silence, poetry, prayer, and reflective invitations.
Tours held every Tuesday*, 3:45pm-4:45pm with time to join the Noon Eucharist if desired. Participants will receive a Pilgrimage Medallion, as we finish in the Center for Prayer and Pilgrimage.
Reservations are required, space is limited to 15 people; you may pre-reserve your tour online. $15 per person. Must be at least 11 years old. All attendees must obtain a tour sticker at the Welcome Desk (located at the main entrance for walk-in visitors, adjacent to the underground parking elevators).
*This tour is not offered on holidays or during special events. Please check the Plan Your Visit page for interruptions to our regular schedule. Questions: Pilgrimages@cathedral.org