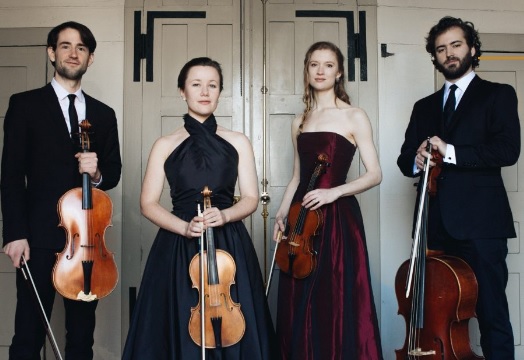 The Emperor's New Harp
Location

Washington National Cathedral
3101 Wisconsin Avenue NW
Washington DC 20016
Directions & Parking
×
Diderot String Quartet: The Emperor's New Harp
Thursday, January 18 | 7:30pm
In this action-packed program from Diderot String Quartet, violence and intrigue flood the streets of Vienna. Joseph Haydn writes his op. 76, no. 3 string quartet ("Emperor"), complete with variations on a theme in honor of Holy Roman Emperor Franz II. But in a shocking twist, Napoleon dissolves the centuries-old Holy Roman Empire and lays brutal siege upon Vienna! Haydn and his wildly-coiffed sidekick Ludwig van Beethoven narrowly survive. The elderly Haydn dies a few weeks later, and Beethoven writes his op. 74 string quartet ("Harp"). Will Beethoven's hearing worsen? Who is the mysterious Prince Lobkowitz? Stay tuned to find out!
Program
Franz Joseph Haydn, String Quartet in G Major, Op. 76/No. 3 "Emperor"
Ludwig van Beethoven, String Quartet in E-flat Major, Op. 74 "Harp"
Ticket Prices
Front Choir $40
Back Choir $20
Students (with valid ID) - Front Choir $15
Students (with valid ID) - Back Choir $10
Tickets purchased now will be held under your name at will call, and may be picked up beginning at 6:45 pm on January 18.