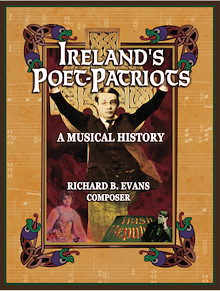 Ireland's Poet-Patriots
Location

Washington National Cathedral
3101 Wisconsin Avenue NW
Washington DC 20016
Directions & Parking
×
Ireland's Poet-Patriots: A Musical History
Thursday, October 12 | 7:30pm
Celebrate Ireland in Concert! Original classical crossover and Irish traditional tunes vividly bring to life the words of Ireland's great Poets and Patriots as they illuminate 140 years of Ireland's history in the grand setting of the National Cathedral Nave. Virtuosic Soloists from Ireland and DC, Orchestra, Chorus, Irish "Trad" Ensemble" – 60 outstanding musicians plus Narrators.
With the special participation of the Ambassador of Ireland, H.E. Daniel Mulhall.
Philip Grant, Consul General of Ireland describes the San Francisco premiere of Ireland's Poet-Patriots:
"What composer Evans and the performers set out to capture, and captured so well, was that blend of cultural experience - the ideals of Ireland's history, politics and narrative, and her literature and music - a piece contemporary to today that captures the spirit and story of the past but enfolds it in the present moment. It was a performance that was truly captivating and left an incredible sense of joy and meaning that evening."
Soloists from Ireland: Muireann nic Amhlaoibh, Christy O'Leary, Aimée Farrell-Courtney, and Derek Ryan
Irish Trad musicians from DC: Mitch Fanning and Billy McComisky
Operatic soloists from DC: Esther Heideman and Matthew L. Smith
Narrators: Ambassador of Ireland, Daniel Mulhall; Patricia Harty, Editor-Co-founder of Irish America Magazine; Gov. Martin O'Malley; Chris Matthews; Susan Davis; and Mark Tuohey
Conductor: Scott Tucker, Artistic Director of the Choral Arts Society
Composed, adapted and written by Richard B. Evans
Ticket Prices
Premium Nave $110-$125
(recently reduced)
Front Nave $95
Mid Nave $60-$75
Rear Nave $40
N/S Transept West Side $55
N/S Transept East Side (partial view) $30
students $15
West Balcony (stair-climbing required to access seating) $65
Side Aisles (obstructed view) $30
students $15
15% discount for students under 25 with ID (available for seats priced $60 and below; select the student option in the drop-down)
15% discount for groups of 10 or more by calling the box office at (202) 537-2228
Video projection screens are provided for obstructed view North and South Side Aisle General Admission seating
Tickets purchased now will be held under your name, and may be picked up beginning at 6:30 pm on October 12.
www.irelandspoetpatriots.com