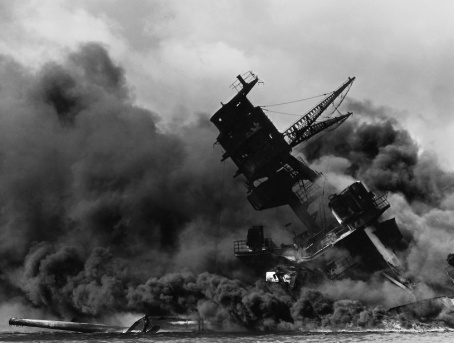 Music in Wartime
Location

Washington National Cathedral
3101 Wisconsin Avenue NW
Washington DC 20016
Directions & Parking
×
Music in Wartime: A Pearl Harbor Day Commemoration
Thursday, December 7 | 7:30pm
This program, including film clips of the Pearl Harbor, the Siege of Leningrad, and FDR's declaration of war on Japan, juxtaposes three musical responses to World War II.
"Music in Wartime: A Pearl Harbor Day Commemoration" marks the debut of the Cathedral's ensemble-in-residence, the PostClassical Ensemble.
Dmitri Shostakovich's
Piano Trio No. 2
(1944) is a cry of pain provoked by the barbaric Nazi Siege of Leningrad, in which half a million died. Arnold Schoenberg's seething and exalted
Ode to Napoleon
(1942), composed in Los Angeles in response to Pearl Harbor by a grateful Jewish refugee, uses Lord Byron's
Ode to Napoleon
to excoriate Hitler and exalt FDR. Hanns Eisler's
Hollywood Songbook
(1938-1943), composed in Los Angeles responds to Hitler, the war and the composer's California exile.
Program
Hanns Eisler:
The Hollywood Songbook
and
Workers' Songs
Dmitri Shostakovich:
Piano Trio No. 2
Arnold Schoenberg:
The Ode to Napoleon
Featuring
William Sharp, baritone
Alexander Shtarkman, piano
Members of PostClassical Ensemble, conducted by Angel Gil-Ordonez
The Cathedral Choir, conducted by Michael McCarthy
Commentary by James Loeffler
Produced by Joseph Horowitz for PostClassical Ensemble
Ticket Prices
Premium Nave: $65
Front Nave: $60
Mid Nave: $45
Rear Nave: $25
West Side Transepts: $45
East Side Transepts: $25
$15 student tickets (available for seats normally priced $45 and below; select the student option in the drop-down)
Tickets purchased now will be held under your name at will call, and may be picked up beginning at 6:30 pm on December 7.


Subscription Ticket Option
Purchase a subscription ticket for all three PostClassical Ensemble concerts at the Cathedral this season and get a 10% discount!

Click here to purchase a PostClassical Ensemble subscription