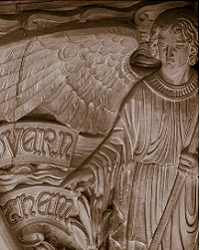 Angels: High & Low
Location

Washington National Cathedral
3101 Wisconsin Avenue NW
Washington DC 20016
Directions & Parking
×
Angels: High & Low
Angels have been represented in art, literature and film for centuries and have intrigued artists and viewers throughout history. This tour seeks angels in the myriad ways they appear throughout the Cathedral. There are hundreds of angels in the cathedral and on this tour we will see angels in stained glass, carved in wood, sculpted in limestone, worked into colorful kneelers, included in a glorious mosaic, rendered in alabaster, painted in a mural and cast in bronze. We will even see an angel without wings and we relate many of these angels to their appearance in familiar Bible stories. We visit the crypt (lower) level and the nave (main) level.
About In-depth Tours
In-depth Tours tours offer a special, in-depth look at aspects of Cathedral artisanship for visitors aged 10 and older. Reservations are suggested as attendance is limited.
Cost: $22 per adult and $18 per child, senior, military, and student (includes Cathedral admission cost)