Verdi: Messa da Requiem Live Webcast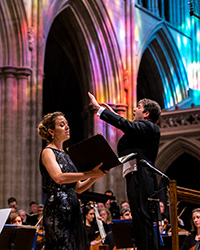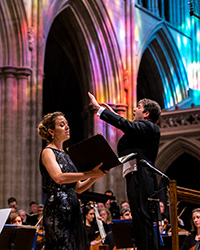 You've selected
×
Verdi: Messa da Requiem (Registration for Online Viewing)
Sunday, May 15, 2022 | 4:00 pm EST
The performance will remain online to watch until Sunday, May 29, 2022.
Registration is free for this event, with an option to pay what you wish (select the option in the drop-down).
Tickets to these virtual opportunities are pay-what-you-wish for our 2021.2022 season. As we work to make these streams accessible to all, we invite you to give what you are able.
To experience Verdi's Requiem is to take a journey that is felt as much as it is heard. To hear the work under the majestic arches of Washington National Cathedral is to encounter awe.
Giuseppe Verdi was a dramatic storyteller, and his Requiem will take you on a journey from the most serene musical moments to the thundering roar of the brass as the chorus sings, "Day of Wrath! O, Day of Mourning!"
On December 1, 1941, the brand-new Cathedral Choral Society held its first rehearsal for a performance of Verdi's Requiem that would occur in May, 1942. Join us again as Steven Fox and an outstanding cast of guest soloists plumb the depths of this mind-blowing work.
THE PROGRAM
Giuseppe Verdi: Messa da Requiem
ARTISTS
Rachel Willis-Sørensen, Soprano
J'Nai Bridges, Mezzo-Soprano
Mario Chang, Tenor
Anthony Clark Evans, Bass
Cathedral Choral Society Orchestra
Steven Fox, Conductor
Venue
Concert Webcasts
3101 Wisconsin Ave NW
Washington DC 20016

Directions & Parking
Performance Notes
Recorded Live Sunday, May 15, 2022 | 4:00 pm EST

You will receive a viewing link by email. The performance will remain online to watch until Sunday, May 29, 2022.