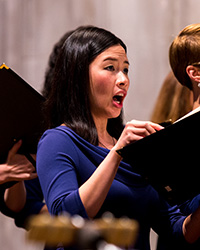 I Have Something to Say
Location

Washington National Cathedral
3101 Wisconsin Avenue NW
Washington DC 20016
Directions & Parking
×
I Have Something to Say
Sunday, March 13 | 4 pm
In 1920, the right to vote was expanded under the Nineteenth Amendment to include women. One hundred and two years later, we explore what it means to have your voice heard.
CCS has commissioned works from three of today's leading women composers — Augusta Read Thomas, Lisa Bielawa, and Jessie Montgomery — that demonstrate the impact of speaking up and speaking out. As part of the day's activities, you will also get to dictate a postcard to a real or imagined President as a part of Sheryl Oring's participatory art project I Wish to Say.
Stay tuned for more information about this weekend of events celebrating women's voices.
THE PROGRAM
Fanny Mendelssohn Hensel: Overture in C Major
Lisa Bielawa: Voters' Litany (world premiere)
Nadia Boulanger: "Prélude" from Trois pièces pour orgue ou harmonium
Jessie Montgomery: I Have Something to Say (world premiere)
Augusta Read Thomas: Far Past War (world premiere)
Dame Ethel Smyth: Mass in D (selections)
Dame Ethel Smyth: The March of the Women
ARTISTS
Amanda Palmiero, Soprano
Kristen Dubenion-Smith, Mezzo-Soprano
Issachah Savage, Tenor
Renée Anne Louprette, Organ
The Cathedral Choristers, Canon Michael McCarthy, Director
Cathedral Choral Society & Orchestra
Steven Fox, Conductor
Sheryl Oring, Performance Artist
Tickets start at $25. Student tickets are $10 each, and we offer a 10% discount for educators, healthcare workers, veterans, and active military.PLEASE NOTE: Masks are required of all attendees (properly-worn, covering mouth and nose).