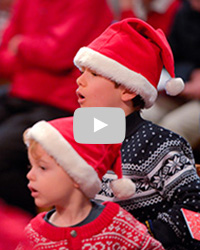 Joy of Christmas Live Webcast
×
Joy of Christmas (Registration for Online Viewing)
Recorded Sunday, December 12, 2021 | 4:00 pm EST
The performance will remain online to watch until 11:59 pm EST on Sunday, December 26th, 2021.
Registration is free for this event, with an option to pay what you wish (select the option in the drop-down).
This year, our Joy of Christmas concert was recorded live on Sunday, December 12th at 4:00 pm. Even if you're watching our performance from home, it's time to restart the tradition the tradition of singing together, celebrating the beauty and community around us wherever we are.
Tickets to these virtual opportunities are pay-what-you-wish for our 2021.2022 season. As we work to make these streams accessible to all, we invite you to give what you are able. We greatly appreciate any amount you'd be willing to give the Cathedral Choral Society this holiday season.
From all corners of Washington National Cathedral, voices rise, filling the arches with echoes of holidays past and the wonder of things to come.
It's time to surround yourself with feelings of comfort and warmth that come when the weather is cold and the music is bright. It's time to restart the tradition of singing together in a space of beauty and community.
Washington, D.C.'s holiday tradition since 1976 is back. Seraph Brass, organist George Fergus, and the School Without Walls Chorus join Maestro Steven Fox and the Cathedral Choral Society for an unforgettable return to choral music.
ARTISTS
Seraph Brass
Tom Sheehan, Organ
Steven Fox, Conductor